Outdoor Bar Stool
I made myself and outdoor bar last year, and I am still loving it. Now it just needs a place to sit! I designed this stool to be easy to make, but look great and it should last for years since it is mostly make out of 2.5" thick wood.
For a YouTube video of how I built my barstool,  (click here)
For step by step instructions on how I built my bar,  click here. 
Here is the shopping list:
3 - Pine 2x4's 8 ft long
1 - Redwood 2x4 8 ft
1 - Redwood fence board - approx 7.5" wide
at least 60 - 2.5" long exterior screws. (I used Kreg, these will not be visible)
4 - 1.5" exterior screws (I used Kreg, but these will be visible, so pick ones you think look the best.)
Titebond III Outdoor wood glue
Black acryllic paint
Water based polyurethane (to cover the black paint)
Boiled Lindseen oil (for the seat and the back)
1" plastic sliders
Cut List:
Pine
2 - 2x4's - 40.5"
2 - 2x4's - 28.5"
4 - 2x4's - 13"
4 - 2x4's - 9"
Redwood:
4 - 2x4's - 17"
1 - 2x4 - 13"
1 - 7.5" fenceboard - 17" long
Tools I used:
Circular Saw
Drill
Kreg Pocket Hole jig
Orbital Sander
Speed Square
Tape Measure
Straight Edge
Step 1: 
After I cut all my board to length the next thing I did was take the two longest 2x4's and mark them to make the angled cut. To do that, I made a mark at 30" down the long side. And then made a mark 1.5" in on the short side. I used a straight edge to connect the points and then used my circular saw to cut it along the line. Do this on both of the long pieces.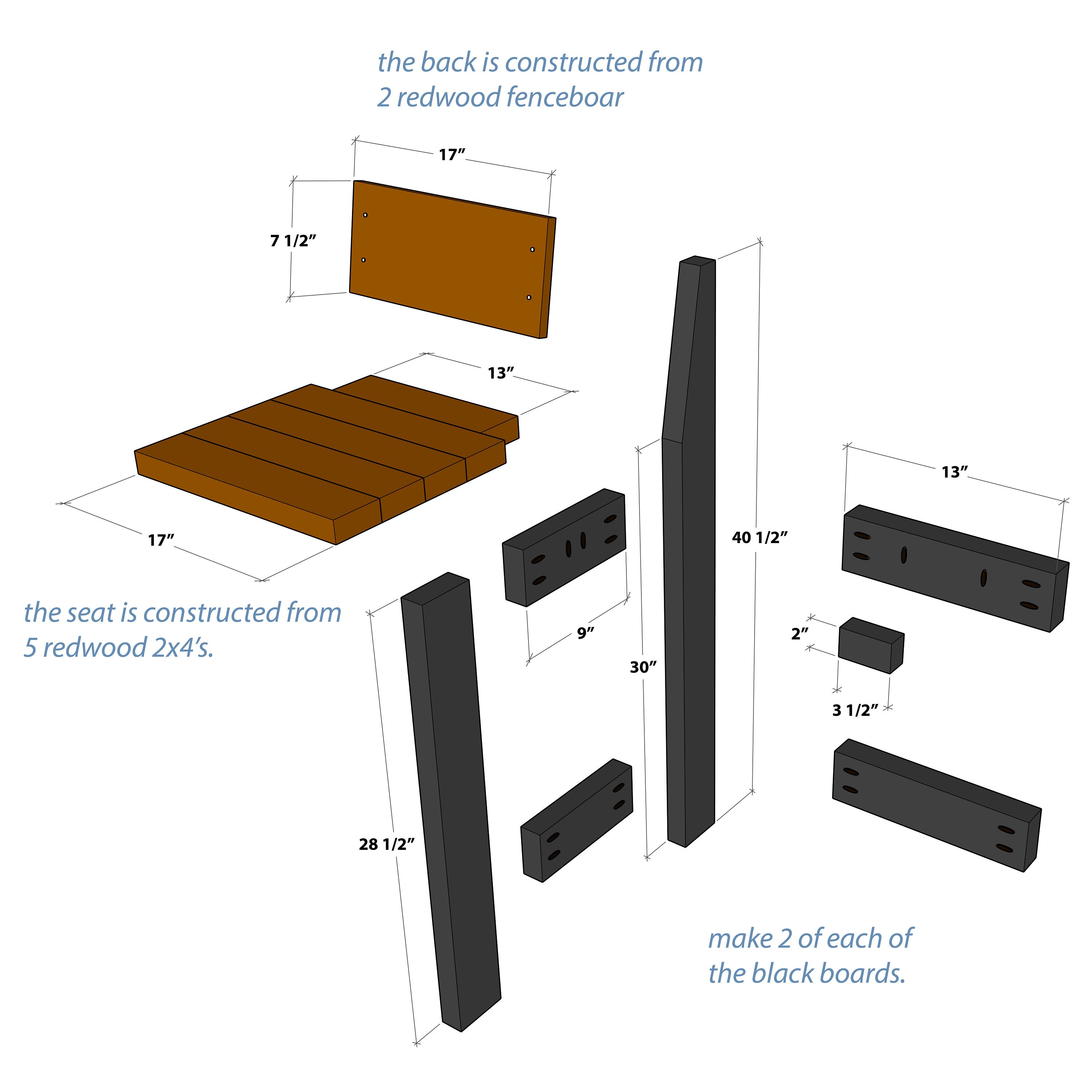 Step 2
Time for some pocket holes. Take all the 9" and 13" pine 2x4's and drill out the pocket holes according to the diagram above.
Step 3
Using glue at the joints, screw two side pieces to a back piece making sure to keep the side piece that has the extra pocket holes point up. Those will be used to screw the seat on later.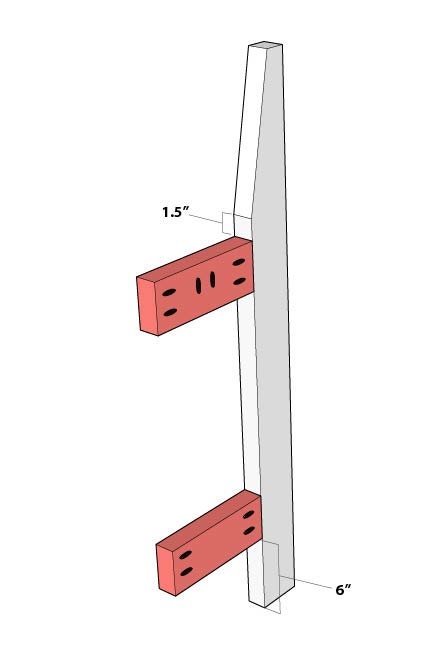 Step 4:
Attach the front 2x4 piece with glue and 2.5" screws.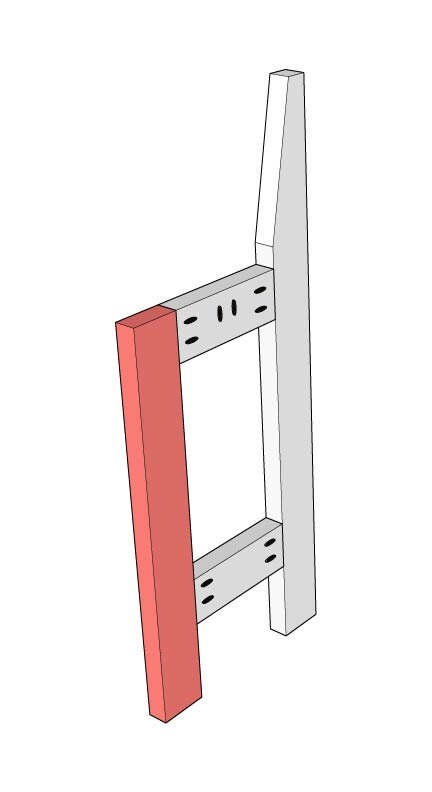 Step 5:
Make the other half of the frame by the same method, but making sure to mirror the pocket holes so that all the pocket holes are facing in.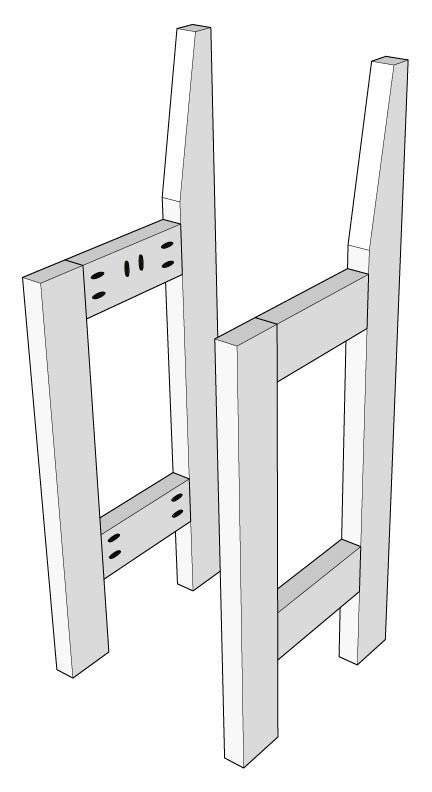 Step 6:
Connect the 2 side together with the remaining 2x4's with pocket holes. Don't forget to keep the extra pocket holes pointing up.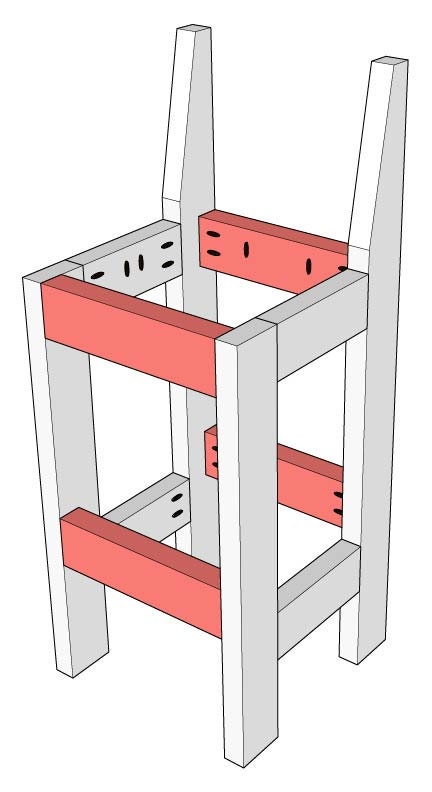 Step 7:
Add two small scraps of 2x4 to the back corners so that the seat is full supported. (It's probably fine without it, but better safe than sorry.)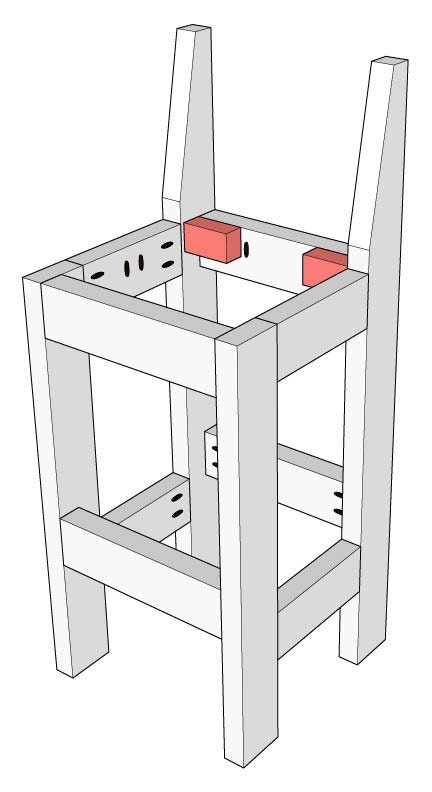 Step 8:
Paint the frame black. Once it is dry, apply the waterbased polyurethane, following the instructions for how many coats and dry time.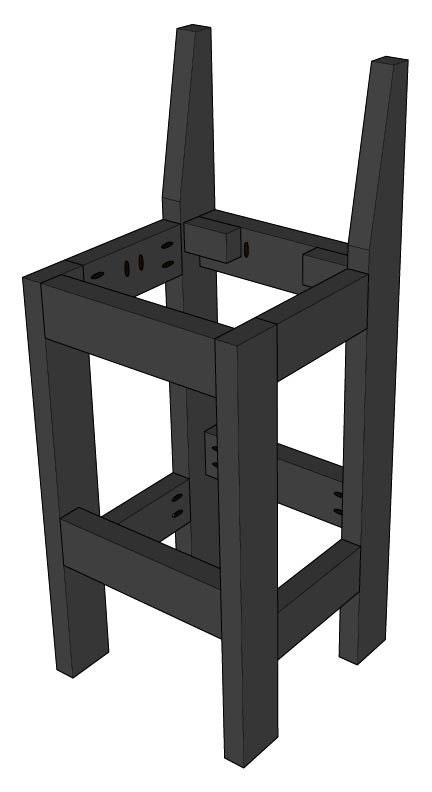 Step 9:
Make the seat by screwing together the redwood 2x4's wioth pocket hole screws. Once the glue is dry, seal the seat and the back piece with Boiled Lindsee oil. Boiled Lindseed oil is awesome, but you really need to be careful with the rag when you are done. Leave the rag somewhere flat to dry or draped flat to dry. If you wad it up and throw it away, it can get really hot and catch fire.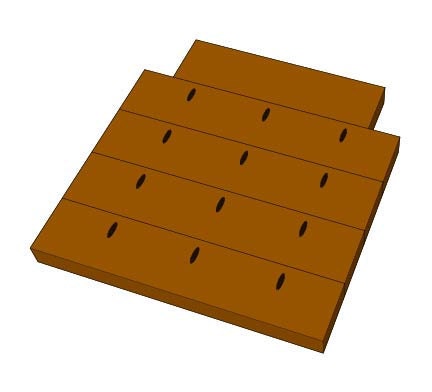 Step 10:
Once all your pieces are dry and cured, screw the seat on with 2.5" screws and screw the back on with 1.5" screws. I painted the screws on the back black so that they matched the frame. They would have looked funny if I left them blue.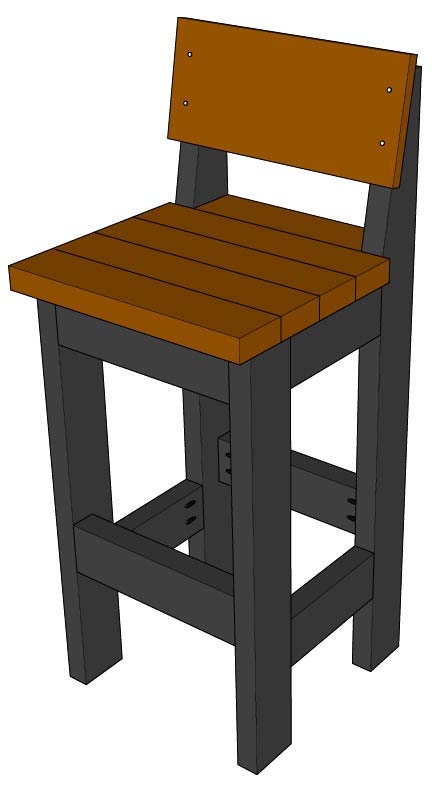 Step 11:
Convince your significant other that they need to be the bartender and get you a drink!  I'm all for a margarita, but there's nothing wrong with a soda bar either!
Now I just need to make another barstool. But knowing me, that will be at least a year before that happens. I do suffer from distra